Clean Away Disposal, LLC is a residential trash removal company proudly servicing the middle Tennessee area for over 25 years. As a family owned and operated business, we take pride in providing prompt and dependable service to all of our customers.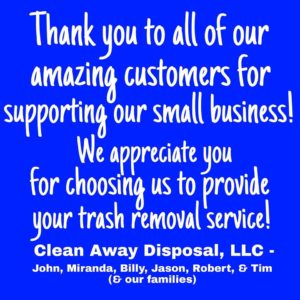 For the holiday schedule for 2018, please visit our Holiday Schedule page.

Contact us today to set up your services!
Office: 615.325.9891
Email: cleanawaydisp@gmail.com
Mail payments to:
Clean Away Disposal, LLC
P.O. Box 143
Bethpage, TN 37022
"Clean Away Disposal has provided me timely and dependable service. My driver is always professional and courteous and when I had questions on what they will pickup he's always helpful. I would definitely recommend Clean Away to everyone." — R.S., customer
Clean Away Disposal, LLC does not use or authorize any third party companies to set up services, administer contracts, or contact prospective customers. If you would like to set up services, contact our company directly.
Clean Away Disposal, LLC reserves the right to refuse services or terminate services with or without notice.