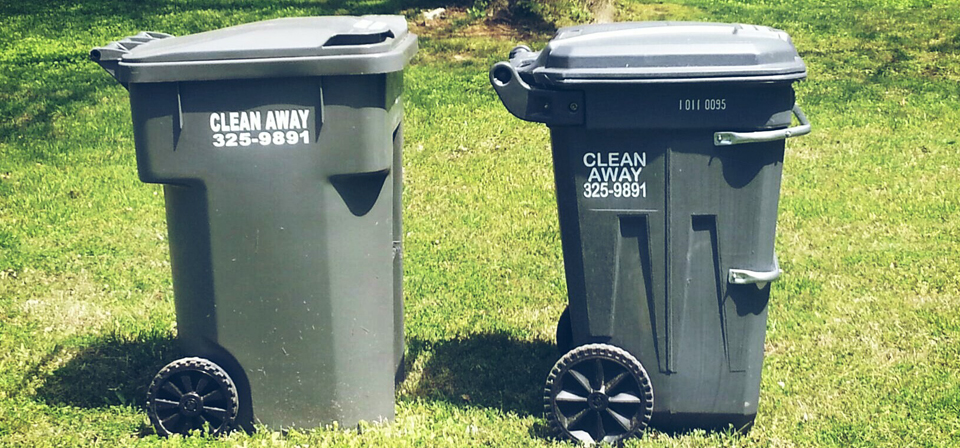 Commercial and Residential Service
Weekly trash pickup is offered for commercial and residential customers.
We pickup Monday – Friday
Routes start at 6:00 am
We provide 95/96 gallon cans for curbside pickup.
Cans provided to customers are the property of Clean Away –  missing, stolen, or damaged cans will be billed to the customer.
We observe Thanksgiving Day and Christmas Day – We pickup on ALL other holidays.
Commercial customers are provided with cans only (no dumpsters.)
We reserve the right to refuse service or terminate services with or without notice.


---

We do NOT provide rental dumpsters.

We offer our cans for weekly curbside service as a courtesy.
If the original can furnished is lost, stolen, or damaged, the customer is responsible for the cost of the can.
In order to reduce the possibility of stolen, lost, or damaged cans – cans must be placed in a secure location after pick up. Cans left at the road beyond the pick up day risk being stolen, ran over, blown away during high winds, or washed away during flooding.

Unfortunately, natural disasters do happen and cans may be damaged or lost. If your can/cans have been lost due to a natural disaster such as extreme flooding or tornadoes – we may replace your can one time without payment, as long as your can was placed in a secure location after normal pick up.
Please contact our office regarding can replacement.
Our garbage trucks have packing units – Once the trash goes in the truck, it cannot come out until it is dumped.
Please contact us for rates and services dates.
We ask for cans to be placed at the road on the day of service by 6 am to prevent being missed.
We recommend placing your garbage out the night before.
We provide service in the following ares:
Portland
Cottontown
Gallatin
Castalian Springs
Cross Plains (limited areas)
Bethpage
Westmoreland
Oak Grove
---
WE CANNOT HAUL THE FOLLOWING ITEMS

Yard Debris 
Rocks
Sticks
Limbs
Dirt
Leaves
Grass
Previously burned material
Building materials
Paint
Oil
Concrete
Roofing shingles
Drywall
Bricks
Wood
Appliances
Toilets
Tires
Furniture
Mattresses and/or Box-springs
Televisions
Please contact our office in regards to any item you may have that is currently not listed. Items may be left per the driver's discretion.
Clean Away Disposal does not use or authorize any third party companies to set up services, administer contracts, or contact prospective customers. If you would like to set up services, contact our company directly.