Frequently Asked Questions: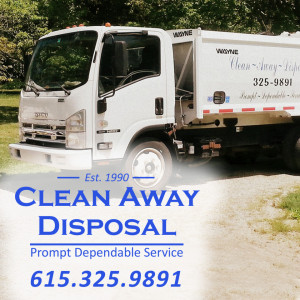 Inclement Weather Policy:
We will make reasonable efforts to maintain normal pick up during inclement weather.
The safety of our drivers and others on the roadway are our top priority.
If the road conditions are hazardous, trash collection will be delayed – pick up may not occur at the normal time or scheduled day. Evening and/or weekend pick up may be necessary.
In the event of a delay:
Please place your trash out on your normal pick up day and leave your trash out so we may collect it as soon as possible.
If pick up is postponed until the next scheduled pick up – twice the amount of trash WILL be collected.
How may I set up services?
Please contact us during regular business hours at 615.325.9891
Do you offer automatic payment options?
Automatic payments can be set up through our website. You will need your unique 12 digit account number and your payment information. Handling fees do apply.
When will I be charged after I sign up for automatic payments?
All customers signed up for automatic payments will be charged on the 1st of the month or the next business day. These charges will continue monthly unless cancelled by you.
I'm moving, can I transfer my service to my new address?
Yes, as long as your new address is located in the areas we serve. Visit our Service page for areas we pickup.
Why are handling fees charged?
Online payment options are provided as a courtesy to our customers. Due to the fees charged by processing companies to accept online payments and our commitment to maintaining our trash removal rates, it is unfortunately necessary to charge handling fees for these transactions.
If I forget to place my trash out on my pick up day, am I still responsible for paying for services?
Yes. Our services are billed monthly for weekly pick-up; we do not bill weekly. Failure to place trash out on your pick-up day does not release the customer from paying for services in full. Our company arrives as scheduled to provide trash removal services every week even if the trash is not out. We will pick up the trash for the week and/or weeks it was forgotten by the customer, when the trash is placed out like normal. Failure to pay may result in termination of services.

Do you haul yard debris?
We cannot haul rocks, limbs, grass clippings, etc. Please contact the county to find out if they offer yard debris removal in your area.
What items can not be pickup up?
Visit our Service page for items we cannot haul.
Do you take cardboard boxes?
Yes, please break them down.
Do you offer recycling?
We currently do not offer recycling at this time.
Where can I haul large items you cannot pickup?
Resource Authority of Sumner County
625 Rappehannock Wire Rd
Gallatin, TN 37066
615.452.1114
My can has been damaged or stolen? How can I get a replacement?
Cans are provided to Clean Away customers as a courtesy, without a deposit. We understand situations occur at no fault of the customer or Clean Away however, missing, damaged, or stolen cans are the responsibility of the customer and will be billed to the customer accordingly. We will replace your can once payment options have been arranged.
If you have more questions please contact us.